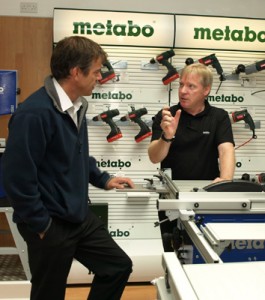 Our popular demo day programme starts again on 4th February with Makita and Festool kicking off the new season.  Most Thursdays and Fridays between now and the end of June will see one of the leading power tool manufacturers in store demonstrating their latest products, answering technical questions and providing some free training.  Featured brands include Bosch, Makita, Festool, Metabo, Dewalt, Panasonic and Paslode with others being included along the way.
If you need some advice about tackling a particularly difficult job these events present an opportunity to get some hands on experience with the tools and make certain you make the right choice.
Using the correct blade or drill bit etc, can often be vitally important to the performance of a tool, and again advice is available on choosing the correct accessories for the particular material you are working with.
If you already have a tool and feel you are not getting the best out of it then technical advice and basic training is available and Paslode will even provide the necessary training to obtain your certified user 'ticket'.
Most important of all there are always demo day only special offers giving you an opportunity to get even more value for money than usual.
View our forthcoming demo day programme.