Metabo have just unveiled brand new battery technology
with their LiHD batteries
What is LiHD?
LiHD stands for Lithium-ion High Density which refers to the way Metabo have crammed even more power into an 18V Lithium-ion battery. There is a whole new LiHD 18V range coming, which includes a 3.1Ah, 5.5Ah and even 6.2Ah. This new technology is designed for "high demand" applications which require a lot of power. So they're exactly what cordless mitre saws and grinders need to stand up tall alongside their corded counterparts.
Metabo LiHD: The Key Points
Metabo say their LiHD batteries will give you:
67% more power   ||   87% more run-time   ||   100% longer lifetime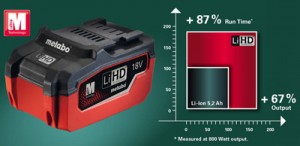 That's compared to an 18V 5.2Ah Lithium-ion battery, which is an impressive increase in performance. Plus they're still about the same size as your regular Li-ion battery packs and they're no heavier either. Of course, 5.2Ah batteries already provide sufficient power and run-time for your usual tasks. That's why LiHD batteries are primarily for high demand tasks where you would normally need a corded tool.
Compatibility: What tools can you use LiHD batteries with?
Metabo LiHD batteries are 100% compatible with every single one of Metabo's cordless tools on the market. So although they are meant for high demand applications you can attach one to your combi drill or your drill driver if you want. An 18V 3.1Ah LiHD battery will give you about the same performance as an 18V 4.0Ah Li-ion one, except the LiHD is even more compact!
The 'Technical Stuff'
Metabo have patented a completely new design for these batteries and changed a lot of the inner components to give LiHD their improved output. This video Metabo posted on YouTube breaks down some of the technical details on the battery technology quite well. Take a look:
Brand New Applications with Metabo LiHD batteries
Metabo LiHD will also allow for new applications via cordless which were previously impossible because of the lack of power. Metabo announced that they will be releasing the first ever 36V 9 inch angle grinder in 2016 to take full advantage of LiHD's incredible power. Metabo say it will be as powerful as a 2,400 Watt mains powered grinder which is exceptional from a cordless tool!
Metabo are calling their new batteries a milestone in cordless technology on the path towards their vision of a completely cordless construction site. So given they are a success, you can expect to see a lot more new cordless tools from Metabo using LiHD batteries in the future.
Available Soon
At Kelvin Power Tools, we'll have Metabo's new LiHD batteries in stock very soon. You can contact us to enquire about getting a hold of some via sales@kelvinpowertools.com.
What's your thoughts on LiHD?
Do you like sound of these new batteries?
Do you see a place for them in your kit?
We'd love to hear your thoughts in the comments below!
…and if you enjoyed our article, please feel free to share it with others on Facebook and Twitter!