Do you want to learn how to clean your Paslode nail gun? It's easy and only takes a matter of minutes! Here's how…
Paslode Nail Gun Maintenance
At Kelvin Power Tools, we have an Approved Paslode Service and Repair Centre. We've serviced and fixed thousands of Paslodes over the years, and most problems are caused by a lack of proper care.
Paslode nail guns are extremely reliable and designed to withstand tough working conditions. However, just like any machine that's built to last, they require regular maintenance to upkeep their performance and last as long as possible! Paslode recommend that you clean and lubricate your nailer every 50,000 shots. If it's being used in a dirty environment or at high nailing rates for extended periods of time then this should be more often.
Cleaning your nail gun is easy and shouldn't take any longer than 15 minutes. At Kelvin Power Tools, we stock Paslode cleaning kits which provide everything you need to clean and lubricate your tool.
Paslode Cleaning: How to
The videos below from Paslode demonstrate how to properly clean and lubricate your nailer. They're easy-to-follow with simple instructions. The first video is for framing nailers and positive placement nailers, whereas the second video is for finishing nailers and multi-purpose nailers.
Paslode Maintenance: Do's and Don'ts
Let the tool cool down beforehand, and remove the battery and gas fuel cell
This may seem obvious, but it's easy to forget!
ONLY use official Paslode lubricating oil
It's specially formulated to withstand the high temperatures generated by Paslode nail guns. Other lubricants can cause rapid build-up of combustion residue which will affect the tool's performance and require more frequent cleaning. It can also lead to premature parts failure and, in the worst case, an unrepairable nail gun.
Use official Paslode degreaser cleaner
Paslode recommend that you use their official cleaner as, again, it's specially formulated for their machines. Other cleaners may chemically damage the nailer's electrical, plastic and rubber parts. They may also leave a residue which can cause damage to both you and the tool.
Use a clean, lint-free cloth
This prevents you from spreading dirt or scratching the internal parts of the nail gun.
Make sure you properly tighten all screws when reassembling the tool
Using a nail gun with loose screws can cause damage to both you and the tool.
Test the tool after cleaning
Don't worry if a small amount of smoke comes out from the nail gun, this is normal.
Your Paslode Also Needs Regular Servicing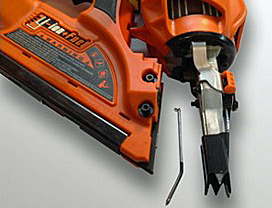 So your Paslode's now clean. Hopefully it seems refreshed! But is it firing like it should? As well as regular cleaning, your nail gun needs new spare parts fitted every now and then. The o-rings, battery pads, filter, etc. get worn out and need replaced.
Is your Paslode misfiring? See our troubleshooting guide: Paslode Problems Fixed.
As mentioned, we're an Approved Paslode Service Centre. This means that we've been authorised by Paslode to service and repair their machines as we meet the high standards they set in service and expertise. We have a free UK-wide collection service, so if your nailer's in need of more than just a quick clean; we're here to help!
We'll test, clean, service and fix any problems with your nail gun, then return it to you working like new again! A service and repair is a worthy investment for maintaining your Paslode's performance. After all, you don't want your work to suffer!
Complete strip down of the tool
Professional cleaning with a high-temperature power washer and degreaser
All electrical parts hand-cleaned
New official spare parts fitted, including o-rings, battery pads and filter
Thorough lubrication
Testing for any necessary repairs
You can find out more about our Paslode Service here. You can also ask us any questions you have or book a service/repair.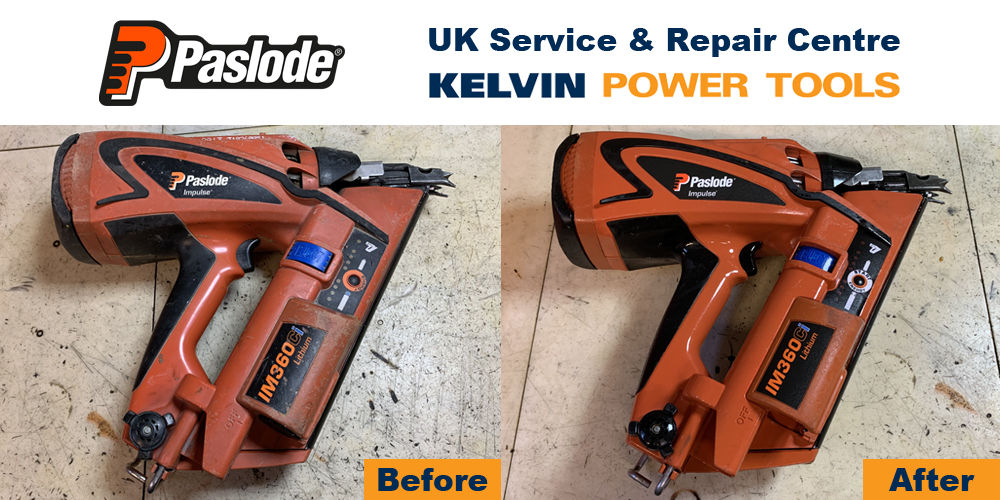 We Hope Our Paslode Cleaning Guide Has Helped
We hope you've found our Paslode maintenance guide helpful. Now you can keep your nail gun clean and performing at its best, ready to fire another 50,000 shots! If your tool's still not performing like it should, then it's probably a service or repair that you need. If that's the case, remember to check our Troubleshooting Guide to help you diagnose the problem!