Do the different model codes in Bosch's huge range of power tools make your head spin?
Do you know your GGS from your GSG? Or how about your 2-Li from your VE-2-Li?
Fear not, help is at hand!

Bosch Power Tool Codes
Each Bosch power tool has a model code. Sometimes they are short and sweet like the GKS 190 circular saw, and sometimes you stumble across more confusing codes like the GKS 18V-57 G NCG.
Though they may seem confusing at first, Bosch power tool codes can be extremely helpful once you get to know them. They can help you understand the key specifications of a tool at a single glance, allowing you to quickly decide if it's suitable for your needs.
We're going to help you understand the ins and outs of Bosch power tool codes by explaining what each section of the code means.
The First Three Letters
Each Bosch power tool model begins with a 3-letter code. All of the codes in the Bosch Blue Professional range begin with a 'G', compared to their DIY range which all begin with a 'P'. This is important to know as each range offers substantial differences in price, power, durability and overall performance.
The only exceptions to this rule are the D-tect scanners (which are named that for obvious reasons), the DNM inclinometers and the DLE laser measures.
After the code's first letter, two more follow. These two letters specify the type of tool. Some of these letters are abbreviations for German words. For example, the 'SB' in 'GSB' stands for "schlag bohrer", which means "impact drill". This may help German speakers, but it's not much use for the rest of us!
So, we've created this handy list of Bosch letter codes and what they mean: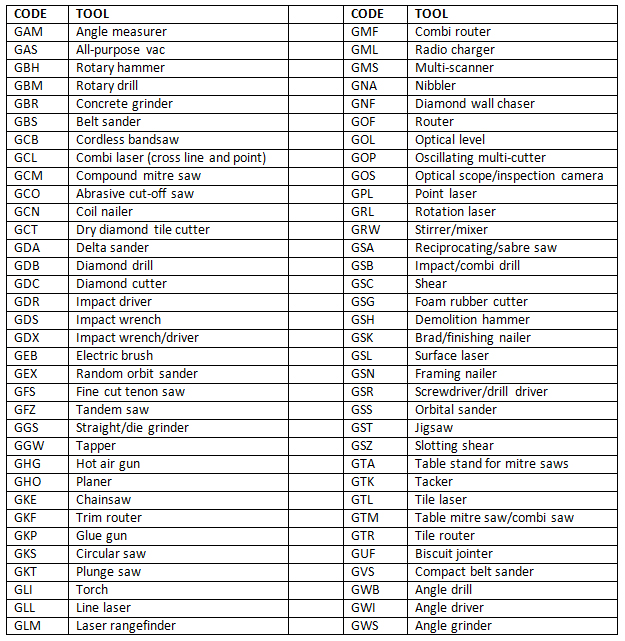 The Numbers
After the initial 3-letter code, two or more numbers follow. Depending on the tool, these numbers can refer to important technical specifications like voltage, motor wattage, drilling capacity, disc size, etc. These details are important for establishing whether the tool is appropriate for your intended task(s).
Here are some examples of Bosch's numerical codes and their various meanings: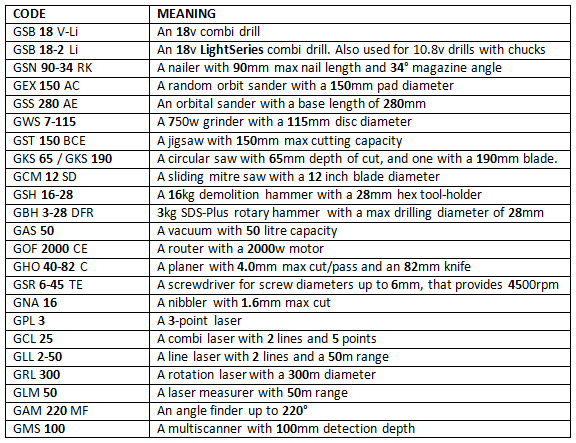 The Last Bits
The last few letters (and sometimes numbers) in Bosch power tool codes relate to different features of the tool. We've divided these codes into handy sections below to make it easier for you to find what you're looking for: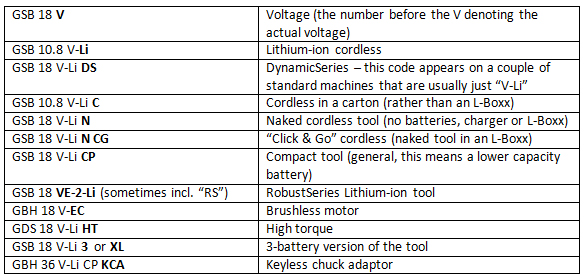 All Other Codes (in Alphabetical Order)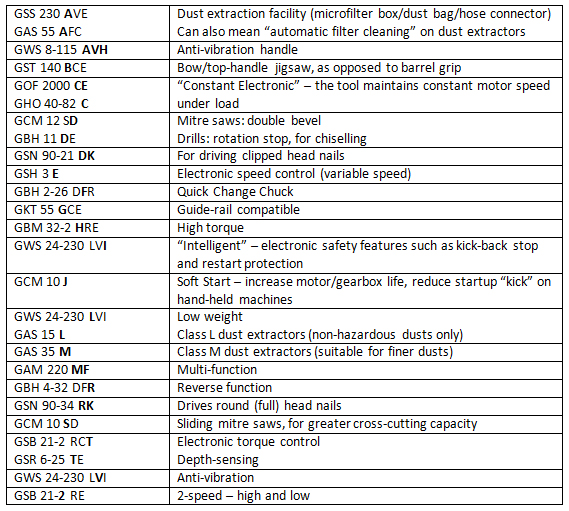 Contact us
If you're still not 100% sure whether a particular Bosch power tool is suitable for your needs, then please don't hesitate to contact us. Here at Kelvin Power Tools, our staff have a wealth of knowledge and are happy to share their expertise to help you find the right tool for the job!