Are you having Paslode nail gun problems? Is your Paslode IM350 not firing? As an Approved Paslode Service and Repair Centre, we've fixed it all!
We asked our service experts to list the most common Paslode problems that they repair here at Kelvin Power Tools. They explain the possible causes for each problem, how you can fix your nailer and how to prevent problems from occurring.
Read on to see what they said…
Paslode Nail Gun Problems & Causes
Paslode nail guns are extremely robust and designed to withstand tough working conditions. However, like any power tool, they can still experience issues. These are the most common Paslode problems we see.
The nail gun isn't firing or is firing intermittently.
Misfiring is the most common repair that we conduct. Possible causes for a Paslode nail gun not firing are:
A nail jam is stopping the nails from moving forward
The gas fuel cell is empty, out-of-date or not attached properly
The wrong type of Paslode nails are being used
Non-compatible nails, gas, etc. are being used
The nailer needs cleaned – especially if it has been used a lot without regular cleaning!
The light on the handle of the nail gun is flashing red and green.
This indicates that there's a problem with the nailer. Possible causes for this are:
A problem with the motor – in our experience, this is the most common cause
An electrical fault, e.g. a problem with the circuit board or a loose wiring connection
The nail gun is making a strange noise.
Possible causes for this are:
A problem with the motor
A problem with the fan, e.g. it's hitting against something inside the tool
The nailer needs cleaned
The nail gun's firing pin is bent.
Possible causes for this are:
The nailer has been dropped
The wrong type of Paslode nails are being used
General wear and tear
The o-rings around the nail gun's firing pin are broken.
Possible causes for this are:
General wear and tear
The o-rings have previously been removed and not put back correctly
The nail gun's battery contacts are damaged.
Possible causes for this are:
The contacts have been bent, e.g. from inserting and removing the battery
The contacts are covered in dirt or dust
The contacts are suffering from corrosion, e.g. from water damage
Non-compatible batteries are being used
How to Fix Your Paslode Problems
You'll have received a user manual with your Paslode which contains troubleshooting information. Read through it and see if a solution is provided for your problem. The solutions provided are for more minor issues, like how to clear a nail jam. If you can't find your manual, you can download one here.
The video below from Paslode demonstrates how to solve some minor problems and is a great help if you're unsure about anything!
For more serious problems, like if your IM350 is misfiring, Paslode recommends that you get your nail gun repaired at an Approved Service Centre.
That's where we can help.
Paslode Repair Service
We've been authorised by Paslode to service and repair their machines as we meet the high standards they set in service and expertise. We'll service, clean, test and repair your nailer, then return it to you working like new again!
It's approved by Paslode! Our fitters have been trained by Paslode and our service is conducted as the manufacturer recommends with only genuine parts used.
It's effective! Our expert fitters give the highest standard of service – all of your problems will be solved.
It's fast! Don't wait weeks for a repair – we offer a quick turnaround of around 2-3 working days from when we receive your tool.
It's easy! We do all of the leg work for you with our FREE UK-wide collection.
It's recommended! See what our customers say…
Don't compromise your warranty! Repairs MUST be conducted by an Approved Paslode Service Centre to keep your warranty valid.
You can find out more about our Paslode Service here. You can also ask us any questions you have or book a repair.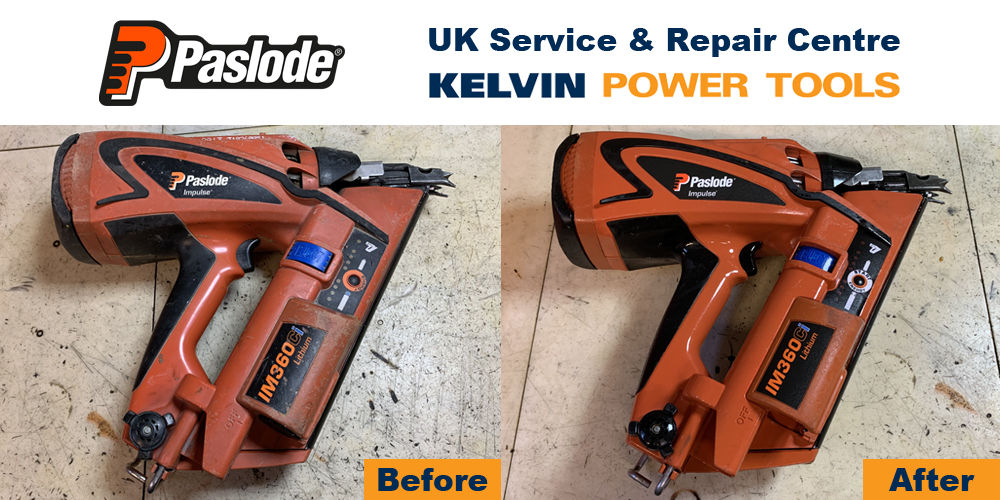 How to Prevent Paslode Problems
Our experts have serviced and fixed thousands of Paslodes over the years, and they warn that most problems are caused by a lack of proper care. These machines require regular maintenance to upkeep their performance and last as long as possible. At Kelvin Power Tools, we stock Paslode cleaning kits which provide everything you need to clean and lubricate your nail gun. Learn how to properly clean your tool with our handy Maintenance Guide.
Paslodes can also experience problems when they're used with other brand's (including fakes) batteries, nails, gas, etc. As Paslode haven't tested these third party products, they can't say whether they're compatible or even safe to use with their tools. That's why they recommend that you use official Paslode accessories and consumables. This ensures 100% compatibility and avoids compromising your nailer's performance and warranty.
You should also make sure you're using the right Paslode accessories and consumables for your specific nail gun model. Each machine is compatible with certain types of nails, gas, etc. For example, the IM65 can only be used with straight brad nails. You can check which accessories and consumables your nailer is compatible with by looking on their box or on Paslode's website.
We Hope Our Paslode Troubleshooting Guide Has Helped
We hope you've found our Paslode troubleshooting guide helpful and have been able to successfully diagnose your nail gun's problem. If you're unable to fix your machine with the solutions provided in your user manual, then we're here to help!