Bosch 35mm Multi-Construction Holesaw
This is a Bosch 35mm (1+3/8inch) multi construction holesaw from the "Speed for Multi-Construction" range. This range provides the fastest performing holesaw cuts you can get.
Key Features
Bosch 2-608-580-734
35mm (1+3/8inch) diameter and 60mm long
Ideal for drywall, masonry and wood
Tungsten Carbide Teeth (TCT) - to provide you with an exceptionally fast drilling rate and a prolonged lifetime
More Effective Chip Clearance - with large, specially shaped slots, further increasing cut speed
Easy Plug Removal - by tilting the pilot drill bit
Recommended Speeds to use
These are the correct speeds to use to get the best quality cut:

More Holesaws...

Get the sizes you need!
see our full range
for Multi Construction
Multi Con Holesaws
Get the Arbor you need...

SDS PowerChange Arbor
to suit ALL
Multi-Con Holesaws
Complete with
TCT Pilot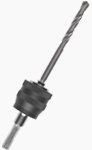 Hex PowerChange Arbor
to suit ALL
Multi-Con Holesaws
Complete with
TCT Pilot