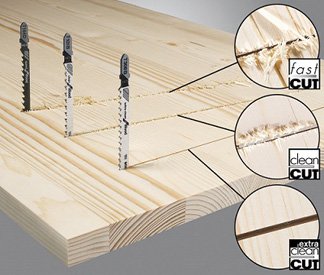 The Bosch blades tend to come in packs of 3 or 5 but you'll find we sell jigsaw blade sets as well. The sets include a mix of blades with 6 or 10 in a pack.
What types of jigsaw blades are there?
Jigsaw blades are capable of cutting wood, metal, laminate, tiles, plastics, and more. Each blade has a specific design and characteristics which suit a specific type of cut. For instance:-
Clean: for a clean and precise cut, leaving a tear-free finish.
Basic: the more affordable option, great if a rough cut in the material is all you need.
Curve: specifically designed to make quicker curve cuts with higher quality results when compared to straight cut blades
Specialist: designed for use with specific materials, and will produce far better results than using a standard blade on these materials.
Fine: quite simply makes finer cuts
Fast: just right for when the quality of the cut isn't that important, but still let's you get it done fast.
Festool Jigsaw Blades
Our great selection includes some Festool jigsaw blades for a range of applications. We have fast cut, clean cut, clean cut for flooring and long life varieties available.
Replacing your blades is important
You should always keep replacing your jigsaw blade because you'll get a better quality cut in the wood or metal when it's sharp. A blunt blade can also become a hazard. It's better for safe cutting to make sure the blade you are using is sharp.
Jigsaws can be used to cut in more varied ways than standard straight cutting saws so your jigsaw is an important tool. If you want to keep every cut you make at a high standard you'll want to have a supply of spare blades ready so you can keep making sharp, precise cuts.
What do the colours on Bosch jigsaw blades mean?
Bosch jigsaw blades are colour coded to help give you an idea what type of material it can cut. Here is a list of the colours and what material they represent - Grey = Wood, Blue = Metal, White = All Purpose, Red = Plastic, Black = Specialist, Other.
Do you need more advice?
At Kelvin Power Tools, we have a great team of knowledgeable staff who can help you choose the best Bosch, DeWalt or Festool jigsaw blade for the job. So if you have a question about the types or the applications, please feel free to contact us and we will be happy to help.