Metabo SE 12-115 Burnisher Polisher Set
The Metabo SE12-115 burnishing machine (110v) can be used for brushing, burnishing and polishing materials like stainless steel to a high-gloss finish. This Metabo burnisher polisher KIT comes with a range of accessories, all packaged inside a tough metal case!
Supplied with
3x spacer rings for narrow rollers
1x expansion roller (Ø 90 x 100mm)
3x sanding belts (Ø 90 x 100mm, P80)
1x nylon web grinding wheel (Ø 105 x 100mm, P280)
1x lamellar grinding wheel (Ø 105 x 100mm, P80)
1x lamellar/nylon web grinding wheel (Ø 105 x 50mm, P180)
Side handle
Case
What are the best features of the SE 12-115 Metabo burnisher?
Powerful 1200W motor with double reduction gearing
Form-fit mounting arbor: this stainless steel burnisher polisher is smooth-running for a uniform finish
VTC-Full Wave Electronics with thumbwheel: customised speeds which remain almost constant under load
Tool-free wheel changes thanks to the spindle lock and flange nut
Metabo Marathon motor with dust protection for a long service life
Auto-stop carbon brushes to protect the motor
Electronic soft start for a smooth start-up
Overload protection prevents this Metabo burnishing machine from overheating for a long service life
Restart protection prevents the Metabo SE12-115 from unintentionally starting again after a power cut
3 year warranty (registration required here)

See our full range of Metabo products

Don't need accessories?
Get the version without!
Metabo SE 12-115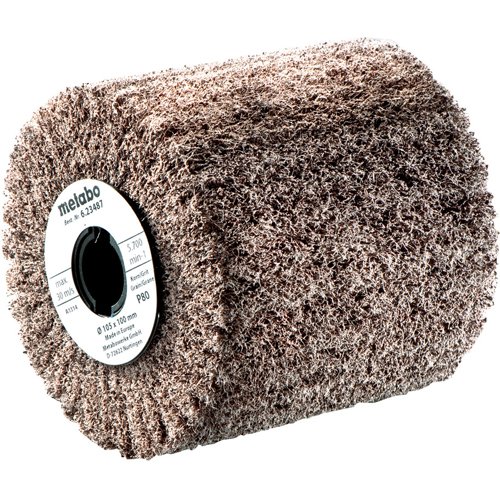 *LOW Prices*
View our great range of
Burnisher Accessories


Technical Spec.
Abrasive wheel diameter: 100 - 200mm
Abrasive wheel width: 50 - 100mm
Rated power input: 1200W
Power output: 720W
No-load speed: 900 - 2,800 /min
Spindle thread: M 14
Weight (without cable): 3kg
Cable length: 4m
Vibration satin-finish: 2.5 m/s²
Uncertainty of measurement K: 1.5 m/s²
Sound pressure level: 86 dB(A)
Sound power level (LwA): 97 dB(A)