Metabo KGS18LTX Cordless Naked Mitre Saw
The Metabo KGS 18 LTX 216 is a cordless 18v mitre saw with sliding function for larger workpieces. This body only tool is supplied without batteries or a charger, allowing you to add it to an existing 18v kit without having to purchase unwanted accessories.
Supplied With
216mm carbide blade (40 teeth)
2x table width extensions
Chip collection bags
Length guide
Material clamp
Tool for saw blade changes
Body only tool - batteries and charger not included
3 year warranty (registration required here)
cutting performance
Soft wood 60mm x 60mm: up to 200 cuts per 5.2Ah battery charge
Laminate 195mm x 8mm: up to 400 cuts per 5.2Ah battery charge
best features of the Metabo KGS 18 LTX 216 mitre saw
Sliding function allows you to work with wider materials
Saw head can be inclined to the left, with additional angle range for undercuts
Optimum power: this Metabo mitre saw is perfect for assembly jobs which require a high volume of cuts
Compact and lightweight with saw head lock and ergonomic handles for easy transportation
Table width extensions: adjustable, extendable and can be removed to work with long panels, slabs, etc.
Easy blade changes thanks to the spindle lock - no need to dismantle the pendulum protective cover
Dust scoop and chip collection bags for effective internal dust and chip extraction
Robust die cast aluminium design: this Metabo sliding mitre saw can be used for the toughest tasks
Ultra-M technology for the highest performance, optimum energy utilisation, gentle and efficient charging, and a long lifetime
Stop points for quick and precise setting of common angles
Depth stop for the easy creation of grooves
Motor brake stops the blade quickly in 3 seconds
Cutting line laser and LED work light with automatic switch-off for optimum battery use
High sliding rear fence profiles and material clamp for safe working
All scales and operating elements are visible from the working position with intuitive operation
Add a Saw Stand!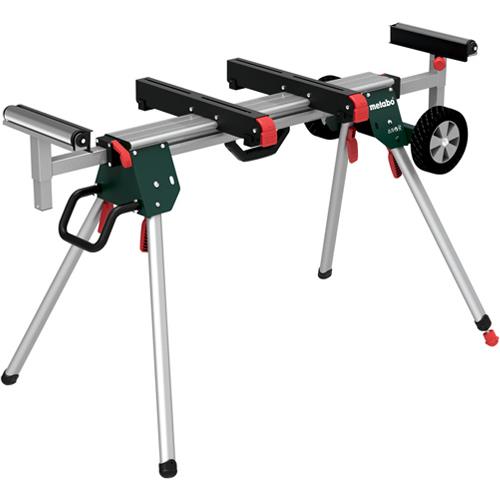 Metabo KSU 251
Extendable 250cm
Stand with Wheels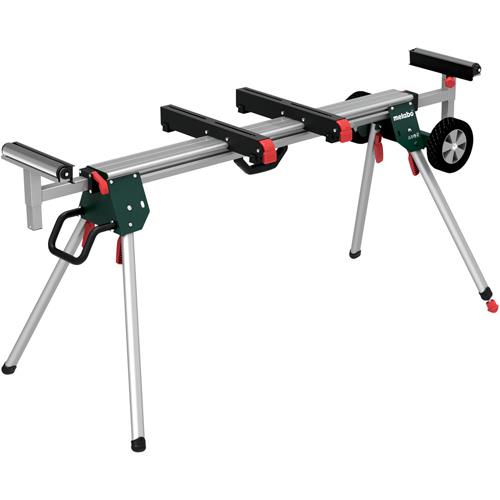 Metabo KSU 401
Extendable 400cm
Stand with Wheels
Metabo KSU 400
Extendable 400cm
Mitre Saw Stand
Technical Spec.
Voltage: 18v
Blade: 216mm x 30mm
Max. cutting width at 90° / 45°: 305 / 205mm
Max. cutting depth at 90° / 45°: 65 / 36mm
Cutting capacity at 90°: 305 x 65mm
Cutting capacity at 45°: 205 x 36mm
Turntable setting left / right: 47° / 47°
Saw blade tilt left / right: 47° / 2°
No-load speed: 4,200 /min
Max. cutting speed: 48 m/s
Weight (incl. battery): 13.6kg