Metabo KGS315 PLUS Sliding Compound Mitre Saw
The Metabo KGS 315 Plus sliding compound mitre saw (110v) offers maximum flexibility thanks to its rotating table and saw head which inclines on both sides.
Supplied With
Carbide saw blade (84 teeth)
2x table width extensions
Material clamp
Connection piece
3 year warranty (registration required here)
Best Features Of The Metabo KGS 315 Plus mitre saw
Enormous cutting performance: this Metabo double bevel mitre saw has an extremely powerful motor and large saw blade
Sliding function for use with wide workpieces
Double bevel: saw head can be inclined to the left and right
Speed control allows you to conduct a wider range of applications
Metabo "Quick" System: fast and easy blade changes without the use of tools
Integrated, pull-out table width extensions made from die-cast aluminium
VC-Full Wave Electronics: customised speeds which remain almost constant under load
Easy transportation: this Metabo sliding compound mitre saw has ergonomic handles and a saw head lock
Soft start ensures a long service life of the motor and drive
Stop points for quick and precise setting of common angles
High sliding rear fence profiles and material clamp for safe working
Depth stop for the easy creation of grooves
Can be used with dust extraction: the Metabo KGS 315 Plus has a dual extraction port design that is aligned closely to the workpiece
All scales and operating elements are visible from the working position with intuitive operation
Add a Saw Stand!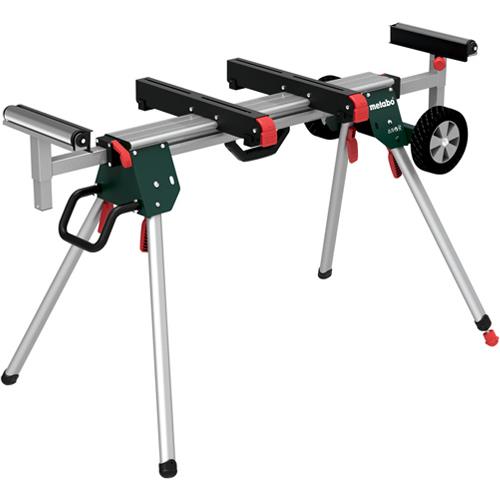 Metabo KSU 251
Extendable 250cm
Stand with Wheels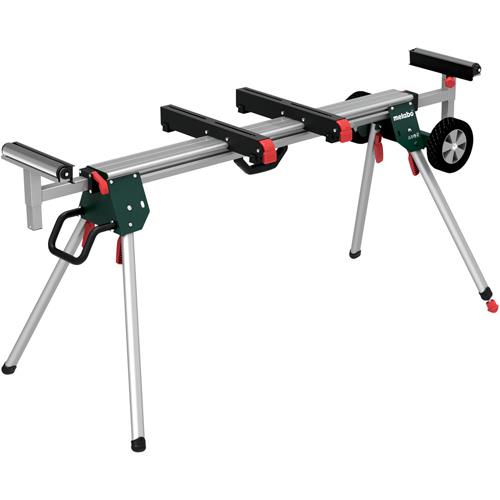 Metabo KSU 401
Extendable 400cm
Stand with Wheels
Metabo KSU 400
Extendable 400cm
Mitre Saw Stand
Technical Spec.
Voltage: 110v
Max. cutting width at 90°: 320mm
Max. cutting width at 45°: 223mm
Max. cutting depth at 90°: 120mm
Max. cutting depth at 45°: 76mm
Cutting capacity at 90°: 320 x 120mm
Cutting capacity at 45°: 223 x 76mm
Turntable setting (left / right): 47° / 60°
Saw blade tilt (left / right): 46° / 46°
Saw blade: 315 x 30mm
Rated power input: 2200W
No-load speed: 3,100 - 4,100 /min
Revolutions at rated load: 4,100 /min
Cutting speed: 51 - 68 m/s
Size: 950 x 765 x 660mm
Weight: 26kg
Cable length: 2.1m
Sound pressure level: 89 dB(A)
Sound power level (LwA): 98 dB(A)
Uncertainty of measurement K: 2.6 dB(A)