Panasonic EY7880 28.8v SDS-Plus Drill
The Panasonic EY7880 28.8V SDS-Plus Drill is a highly popular, powerful and compact rotary hammer drill. It's built for professional trade use and it's ideal for heavy duty concrete drilling. it uses the latest 'Tough Tool IP' technology. This protects the tool from dust and water up to IP56, ensuring you have a robust and durable tool to withstand tough tasks.
Best features of this Panasonic 28.8 volt SDS hammer drill
Tough Tool IP56 - dust and splash protection
Powerful hammer mechanism - for fast and effective work
Various modes - hard/soft, fast/slow, and drilling/hammer-drilling/chiselling
Vibration-dampening - with soft rubber grip. Comfortable to use
Slow-start switch - for precise drilling
Electric Speed Control - with Variable Speed, electric brake and reverse operation
Lightweight - at only 3.85kg
For Heavy Duty Drilling in Concrete & Masonry
The Panasonic EY7880 is equipped with a powerful hammer mechanism for creating fast anchor holes and through holes in concrete and masonry. This Panasonic SDS hammer drill allows you to serial-drill holes up to 20mm diameter by 110mm deep in concrete with ease.
The Tough Tool IP56 Dust and Splash Protection includes features such as a sealed switch, electronics that are coated in urethane to seal them tightly, and moisture-tight batteries. This gives you a long-lasting cordless SDS plus drill, and allows worry-free work in even the toughest environments.
How flexible is this Panasonic SDS battery drill?
The 3 drilling modes allow you to perform tasks in a range of materials from masonry and concrete to wood and metal. This Panasonic SDS cordless drill also features hard and soft hammering modes, as well as slow and high speed drilling modes, ensuring that you get the best results in a range of different materials and tasks.
Topped off with the variable speed control and the reversible operation, it is clear that these features provide you with a versatile SDS-plus hammer drill capable of performing a wide range of on-site tasks, especially drilling into concrete, making it one of the best cordless SDS drills for sale today.
ADD

SDS Drill Bits
at VERY Low Prices!
See our great range
SDS Plus Drill Bits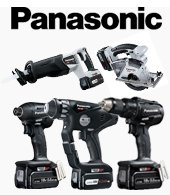 See our complete
range of cordless
Panasonic Tools
Technical Spec.
EY7880LP2C31/EY 7880 LZ2C
Max drill diameter
Concrete: 20mm
Steel: 13mm
Wood: 27mm
Speed at No Load (rpm)
Soft: 0-500
Hard: 0-920
Blows Per Minute
Soft: 0-2800
Hard: 0-4500
Hammering force (Joules)
Soft: 1.3
Hard: 2.4
Width: 83mm Length: 319mm Height: 203mm
Weight incl. battery: 3.85kg
Charging Time
Full: 80 mins
Usable: 60 mins
Supplied With
2x 28.8V 3.0Ah Lithium-ion batteries
Fast Charger (EY0L82B)
SDS chiselling attachment
Heavy duty carry case
Extended 3 Year Warranty
(registration required)
1 Year as Standard